Unifine Mill proposed to be donated, constructed in Ritzville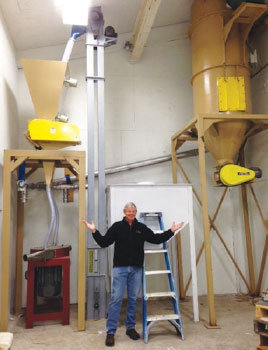 Steve Fulton, whose family still operates a farm in Fairfield, Washington, has announced his intention to donate a Unifine flour milling system to be operated in Ritzville.
Fulton's family has a long association with this milling system.
The Unifine Milling system, developed at Washington State University (WSU) in the 1940s, is a revolutionary style of milling. The mill uses a high-speed rotator to explode the grain, rather than grinding or crushing it.
In one pass through the mill, very fine whole grain flour is produced. This product also lends itself to sifting, yielding a more refined flour with an approximate 10 percent extraction.
This new flour, trademarked "Tawny White" is receiving positive reviews from Seattle-based artisan bakers who have bench tested it alongside traditional white flour.
It is not only produced cost effectively, but retains roughly four times the fiber and other nutritional elements when compared to traditional white flour.
According to Fulton, the mill itself operates at a fraction of the cost of stone milling or the Roller Mill system, which currently dominates the world's flour industry.
Fulton explained the Roller Mill was introduced about 150 years ago and is unique in that the grain is first hydrated. The bran and germ elements are then effectively peeled off the starchy white endosperm in a series of rolling and sifting passes through the mill.
This yields the functional, but nutritionally deficient, "white" flour. According to a May 2015 United States Department of Agriculture report, white flour still dominates about 94 percent of flour milled in the United States.
While it's typically artificially enriched, it lacks most of the fiber and many of the micronutrients nutritionists are increasingly finding are important to the human diet.
Two Unifine mills are currently in operation; focusing on strong demand for organic whole grain flour.
Fulton noted the Ritzville Mill would be the first in the world to produce non-organic whole grain and Tawny White flour. The strong demand for Tawny White is anticipated along with considerable consumer interest.
The mill to be donated was used in operations at Azure Standard located in Dufur, Oregon, from March 2014 to May 2015.
In that time period, the mill produced over a million pounds of whole grain products and 10,000 – 20,000 pounds of Tawny White flour.
The mill and an associated exhibit are currently on display at the WSU extension office in Ritzville.
Ritzville is the number one choice to receive this new flourmill, with the product being distributed nationwide. Fulton said Ritzville was selected because of its strategic location and the strong community momentum for revitalization.
Unifine Mill LLC, is committed to donating the value of the mill itself to the enterprise at a proposed fixed valuation of 20 percent.
Fulton proposes this portion of future enterprise income benefit a technical and academic scholarship foundation for graduates of Adams County high schools.
While community members and potential investors preform appropriate due diligence on Fulton's proposal, he plans to obtain approximately 1,000 pounds of Tawny White from Azure Standard and distribute it to local bakers in the Spokane area for testing and comment.
This Unifine Flour Mill has also been granted the rights to the "Cougar Pride" royalty-producing label by WSU.
Should the Ritzville enterprise chose to use this label, in addition to a strong marketing boost, it will appropriately provide royalty income to WSU, where it was originally developed over 50 years ago.
In recent years, three WSU Engineering Design Clinic teams have worked with private industry representatives. These efforts have documented the mill's merits, worked out some of the isssues, prompted some significant patents, identified modifications for future research and dialed in the supporting elements for the full system.
Fulton asks interested community members view the website at http://www.unifinemill.com, respond there or send a letter of interest to the care of the Ritzville Journal at PO Box 288.
After individuals submit their interest, Fulton plans to select an informal leadership team from those respondents and continue to hold community meetings, with dates and locations to be announced.
Fulton hopes to organize two tour days in January for Adams County residents to travel to Dufur to participate in an open house at their state of the art facility.
The operation in Dufur is what Fulton envisions for Ritzville.