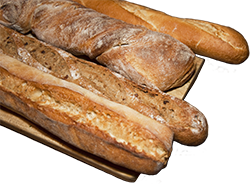 Artisan Bakers Who Have Bench Tested Directly Sifted Whole Grain Flour
Directly Sifted Whole Grain Flour is unlike any flour we've baked with before. It performs like white flour, but provides a more nutritious loaf of bread - with the visual appearance, textures and volumes of standard artisan fare!
Whole Grain & Sifted Whole Grain

The Unifine impact flour mill cost effectively produces both an excellent whole grain flour and a superior replacement for nutritionally deficient refined white flour. Unifine sifted whole grain flour matches white flour functionality, while yielding more nutritious and flavorful baked goods.

Better Flours With One-Pass Milling

Roller milled refined white flour - devoid of bran and germ - still dominates over 90% of U.S. flour milling [2015 Whole Grain Council Report].. However, professional bakers requiring 'white flour functionality' give stellar reviews to directly sifted whole grain flour. Direct sifting only removes the troublesome larger flour particles that literally puncture the bubbles in the rising dough. This simple process retains most of the bran/germ nutrition that white flour eliminates.

Versatility & Lower Operating Costs

The Unifine Milling System requires a much smaller production and facility footprint than the centralized (white flour) industrial roller mill. The capital investment and ongoing maintenance costs are also dramatically less than roller mill systems and most other whole grain systems. The base system (900 to 1,800 lbs/hr) is expandable as demand increases. Milling is not limited to wheat, the Unifine mill may be used to mill many other grains and products. See the partial list of products being milled below.

The Good Stuff Stays In

Most "whole wheat" flour offered today is inefficiently produced, reconstituted white flour that has had the bran and germ reintroduced. With Unifine one-pass milling, you get either a very fine 100% whole grain flour or directly sifted whole grain flour, a functional white flour replacement retaining the most of the kernel nutritional goodness & fiber.

Grains / Products

Spelt
Buckwheat
Millet
Corn
Barley
Emmer
Rice
Sorghum
Rye
Kamut
Quinoa
Spelt
Semolina
Barley
Amaranth
Garbanzo Beans
Teff




Nutrition Facts

Sifted Whole Grain Flour vs. Refined White Flour

% Remaining After Milling*
Dietary Fiber
Sifted Whole Grain Flour
83%
Refined White Flour
22%
Phosphorus
Sifted Whole Grain Flour
72%
Refined White Flour
33%
Potassium
Sifted Whole Grain Flour
75%
Refined White Flour
31%
Magnesium
Sifted Whole Grain Flour
67%
Refined White Flour
18%
Manganese
Sifted Whole Grain Flour
71%
Refined White Flour
17%
Zinc
Sifted Whole Grain Flour
78%
Refined White Flour
25%




Sifted Whole Grain: Analysis by Medallion Labs.

Refined White: USDA Nutritional Database 2004.

---

* Sifted Unifine Flour matches white flour functionality and offers inherently greater flavor and nutrition.