A Rolling Stone Gather's No Moss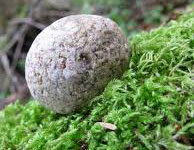 The incredible, indeed revolutionary, potential of the Unifine flour milling system has been like a large round rock, perched precariously at the top of the mountain of the world's flour milling industry.
This disruptive technology has been figuratively teetering in place since its development was announced by WSU staff at a regional miller's convention back in 1947. In recent years, that rock began to list with the extensive remodeling and mill re-fabrication of the only Unifine flour milling system in the world located in Dufur, OR. With input from private industry experts and three WSU Engineering Design Clinic teams, this multi-year effort was completed in late 2015. Along with that development, the first high output modular Unifine system is in the process of being fabricated in Royal City, WA. That five mill system will be at full production by 1/1/2016. Under contract with Oregon based Dave's Killer Bread, it is committed to producing tens of millions of pounds of organic whole wheat flour in 2016 and substantially more after that.
It is, however, in Ritzville WA though that this figurative "Unifine rock will truly start to roll". Because of Ritzville's strategic location, Unifine Mill LLC has selected it as the site for the first Unifine Milling system to focus on the milling of non-organic conventional flour. In addition to the high quality whole grain flour that the system produces, the Ritzville installation will aggressively promote the reduced bran "Tawny White™" flour that this mill can cost effectively produce. Artisan bakers who have bench tested this unique, locally produced, more nutritious flour side by side with refined white flour have given it rave reviews and are eagerly awaiting its availability.
This development for the local farming economy couldn't be coming at a better time. With wheat prices ebbing, yields off because of the drought and government support under significant budgetary pressure, adding new profit centers (with an "s") is obviously welcome news to the rural farming economy. "Wheat Montana" produces millions of pounds of quality flour in Three Forks, Montana (population 1,500) and distributes it nationwide. They also produce tens of thousands of loaves of bread a day, distributed to five states. It naturally follows that once the production of flour is re-localized; related baking enterprises will follow. That's exactly what's going to happen in Ritzville and.........
When the first particles of conventional flour flow from the Ritzville WA Unifine Mill, the Unifine "rock will truly make its first significant turn". It's perched at the figurative top of the very high mountain of the world's flour milling industry. As it and the avalanche it starts begins a rapid decent, no "moss" will be gathered along the way.